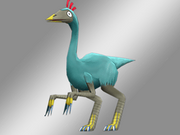 | | |
| --- | --- |
| LP | 260 |
| Attack | 52 |
| Defense | 18 |
| Accuracy | 35 |
| Speed | 25 |
| Skill Name                                             | Attack Power | FP Cost | Effect |
| --- | --- | --- | --- |
| Wild Claw | 33 | 30 | |
| Crazed Peck | 46 | 60 | |
| Manic Spin | 76 | 90 | |
|  Spinning Rampage | 98 | 200 | Scare: 40% (Team) |
|  Parting Blow | --- | --- | Powers up when KO is imminent. |
For more info on Orno click here
Support effects (own AZ)
Attack                                           ---
Defence                                         ---
Accuracy                                 +99%
Speed                                          --- 
 

Strategies  Edit
Team Orno with Vivosaurs with low Accuracy to take full advantage of its incredible support effect. It is best paired with Zino, as it can use a team skill with the other long-nailed Vivosaur.
Ad blocker interference detected!
Wikia is a free-to-use site that makes money from advertising. We have a modified experience for viewers using ad blockers

Wikia is not accessible if you've made further modifications. Remove the custom ad blocker rule(s) and the page will load as expected.