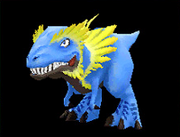 | Skill | Power | FP cost | effect |
| --- | --- | --- | --- |
| Wind blast | 123 | 70 | --- |
| Aeros Alert | 139 | 170 | --- |
| Areos special  | 209 | 300 | Super excite 100% |
| Law of the jungle  | --- | 100 | Recover for ally LP |
| Cyclone Breath  | 159 | 50 | Team skill |
| Parting blow  | --- | --- | Powers up when KO is imminent |
Support effects 

---

---

---

--- 
For more infomation on Aeros click Here!
Strategies 
Edit
aeros is one of the 5 starters in fossil fighters champions. it has the most power of the 5 and has an even more powerful super evolver. it would be a really good idea to include aeros on an air mono team because of all its power and its super excite.
Ad blocker interference detected!
Wikia is a free-to-use site that makes money from advertising. We have a modified experience for viewers using ad blockers

Wikia is not accessible if you've made further modifications. Remove the custom ad blocker rule(s) and the page will load as expected.